Volunteer to Get Out the Vote!
We need help at polling stations, knocking on doors, and reaching out to neighbors to help folks vote #YESforPropB!
Find a shift that works for you:
You are eligible to vote early by mail if you are a registered voter who meets any of the following:
Deadline to receive an Application for a Ballot by Mail:
Vote by Mail Ballot must be postmarked by:
Click here for a fillable Application to Vote by Mail:
If you are volunteering at the polls or standing in line, here are some guidelines to follow.
DO NOT TALK OR ENGAGE IN DISCUSSION WITH SAPOA POLL WATCHERS
If they approach you, you can say: "I am working and can not talk with you during my time here, have a good day." 
If talking to a voter and you are interrupted by SAPOA poll watchers, ask the voter if they will talk to you in a different location away from the SAPOA poll watcher.
You can say: "Will you please join me over here so we may continue our conversation?"
If at any time you feel harassed, start recording, do not speak to them other than to ask them to stop.
You can say: "STOP HARASSING ME."
Call 911 if they do not stop. If a partner is available ask them to record while you make the call.
Email Erik Walsh, Maria Villagomez and Chief McManus with case #:
Erik.Walsh@sanantonio.gov
Maria.Villagomez@sanantonio.gov
William.McManus@sanantonio.gov
Officer engaging in electioneering in uniform or in patrol car
Immediately take photos of the incident.
Send photos to Fix SAPD team member. Fix SAPD team member will send material to Erik Walsh, Maria Villagomez and Chief McManus.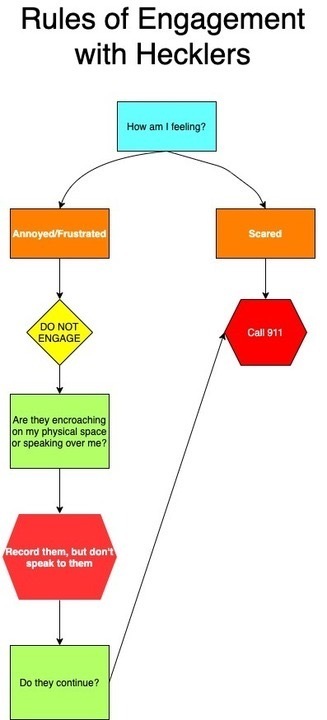 Commit to vote YES for police accountability in May.